Trying Something New - The Piedmont Corbel Project
A Case Study in Craftsmanship With Eric Hollenbeck
A lot of times when we take on restoration or reproduction projects, the
"After 46 years of millwork one begins to feel like they may have done most
everything… Hah! We were asked to make two entrance corbels to replace the
elaborately carved originals on a house in Peidmont, California. The originals
were a leaf motif, and the customers wanted something stylistically close to an exact match. Because we do everything using traditional tools and mostly by hand, this project was looking to be very time consuming."
(Far Right):Cesar works on the initial detail work on the leaf motif for the Piedmont corbels (Near Right):The finished product, complete with wood frame and polymer clay detail work.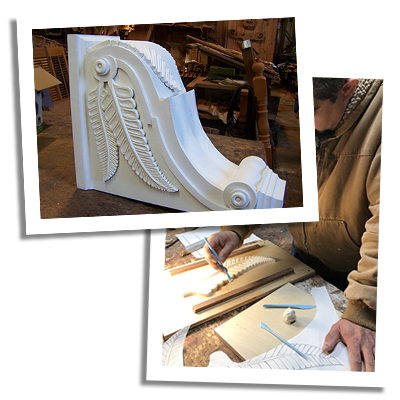 An Elegant and Affordable Solution
"However, at the last minute my brain kicked in and I remembered a trick we used making the casting molds for the Lincoln Hearse. The first step was to build the wood base of the corbels, then we made and added the wood trim pieces. Once this was done we began making the leaves out of a polymer clay that hardens with heat. Once the leaves were done we molded them over a pre-cut form that mimicked the corbels and baked them in the oven for twice as long as recommended, (we baked this long because wood is not a good conductor of heat). After hardening we finish nailed and glued the leaves onto the corbels, two coats of primer and Voila!… Corbels that match the originals."
(Top): The clay leaf motifs await their turn in the kiln  (Middle) :The unpainted corbels with their curved front pieces attached. (Bottom): Eric Hollenbeck poses with the completed corbel.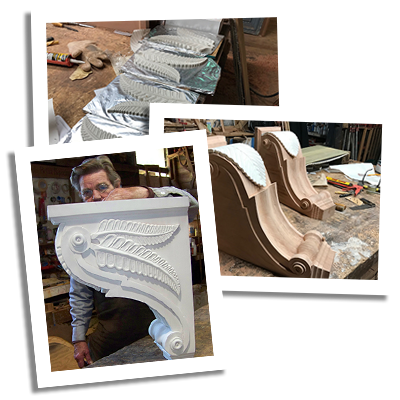 While the information on this website is believed to be true and accurate at the date of publication, neither the authors, webmaster, nor Blue Ox Millworks can accept any legal responsibility for any errors or omissions that may have been made. Prices listed on website are subject to change. © . Blue Ox Millworks. All Rights Reserved. Web Design by DHD